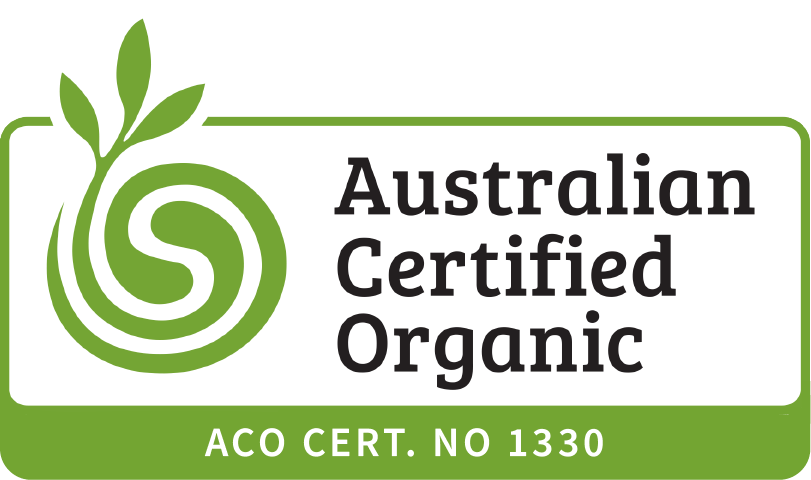 Complete 3 Turmeric™ Liquid Extract
Complete 3 Turmeric™ Liquid Extract is a concentrate of certified organic turmeric without synthetic or artificial additives. It's one of nature's power players in keeping you healthy. And, as a liquid, it is more rapidly absorbed than capsules or tablets.
Complete 3 Turmeric™ Liquid Extract makes it easy and enjoyable to add turmeric into your daily diet. Simply blend 5 ml of our organic liquid turmeric into a cup of water, milk or coffee and you will have an appetising and nutritional turmeric drink.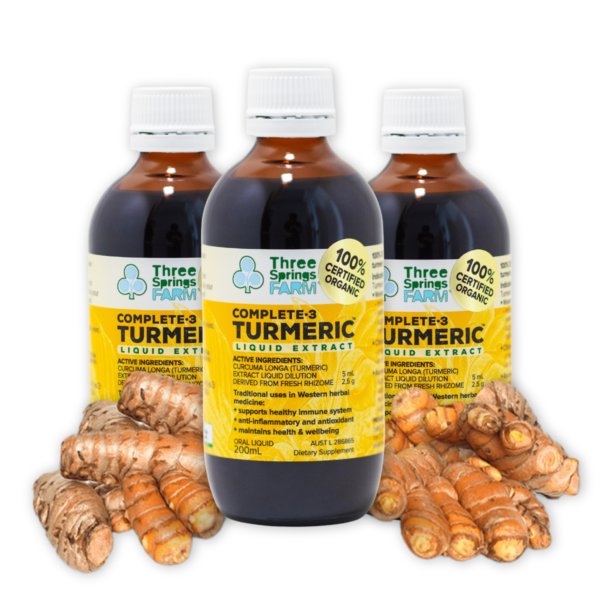 Free Shipping
For orders of 3 or more bottles & subscriptions within Australia
Why Choose Complete 3 Turmeric™ Liquid Extract?
Unlike many other turmeric extracts, Complete 3 Turmeric™ Liquid Extract is made from fresh certified organic turmeric grown on our farm from premium rootstock selected after each harvest. It is a full spectrum extract with whole turmeric root's actives as found in nature. Our product integrity is of the highest importance and as such nothing is stripped out and we do not use any dried powder or synthetic or artificial ingredients.
Complete 3 Turmeric Liquid Extract preserves curcumin and all of turmeric's actives in natural proportions that work in synergy for optimum potency.
Turmeric: Centuries of Health Benefits
Turmeric has been trusted for centuries as a powerful anti-inflammatory, antioxidant and tonic for health and wellbeing. Research has shown that turmeric can regulate your immune system's response to disease, infection and free radicals – substances that damage the body as a result of ageing, lifestyle and environmental factors.
Turmeric's versatile health-giving properties have been utilised in traditional systems of medicine for centuries. Based on holistic philosophies that regard the patient as an individual, they aim to prevent the underlying causes of illness rather than target specific symptoms.
Turmeric has been traditionally used in
Western Herbal Medicine: to support the immune system and maintain health and wellbeing; as an anti-inflammatory; as an antioxidant to reduce free radical damage to body cells, to relieve mild joint aches and pains, as a liver protectant and to maintain gastrointestinal health.
Ayurvedic Herbal Medicine: to support the cardiovascular system, reduce upper respiratory congestion, support mental endurance and nervous system health
Chinese Herbal Medicine: as an anti-inflammatory and a restorative and longevity tonic
In the past two decades, turmeric has been among the most medicinally researched plants in the world with studies continuing to show its promise for many modern disorders.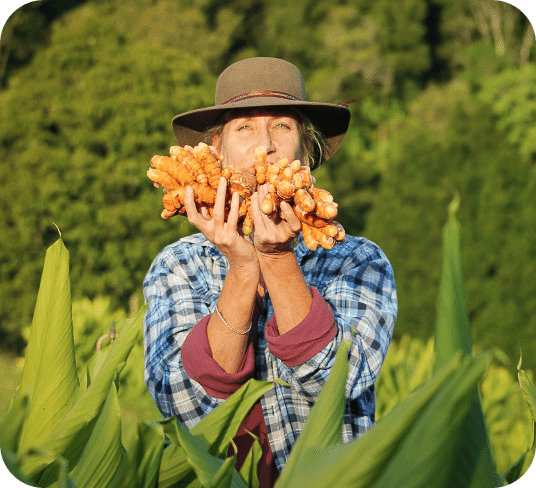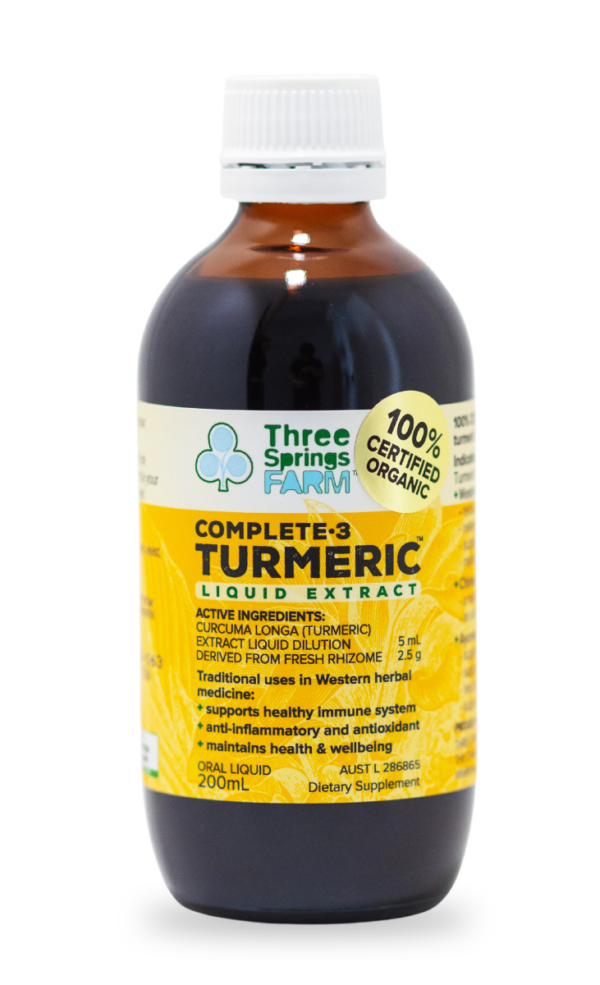 ALWAYS READ THE LABEL. FOLLOW THE DIRECTIONS FOR USE. IF SYMPTOMS PERSIST, TALK TO YOUR HEALTHCARE PROFESSIONAL. THIS MEDICINE MAY NOT BE RIGHT FOR YOU. READ THE WARNINGS BEFORE PURCHASE. CONTAINS ETHANOL.
Where Can You Buy Complete 3 Turmeric™ Liquid Extract?
You can buy our certified organic Complete 3 Turmeric™ Liquid Extract both online or from one of our over 65 stockist partners throughout Australia. We also offer a discounted monthly subscription for those who want to enjoy the ongoing benefits of our Complete 3 Turmeric™ Liquid Extract. You'll find the subscription offer once you click the BUY NOW button.
Massive difference to my life and I have put a few friends onto it as well with the same results
I was limping around and felt broken sore joints and generally feeling old couldn't exercise or walk long distances because I was so sore. I tried turmeric tea and tablets they didn't do a thing.
After a lot of research I found all natural is much more effective so I tried it. I am no athlete but I am exercising and feel so much better no comparison.
I gave a bottle to a friend and he has had the same results. I have told other friends about it also I should be on commission.
If you are procrastinating don't, it has been a life changer for me.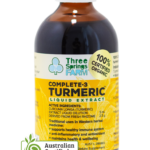 Complete 3 Turmeric™ Liquid Extract - 200ml
10
I am just starting to drink liquid,nice taste,easy to swallowing,thank you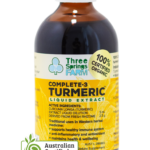 Complete 3 Turmeric™ Liquid Extract - 200ml
This may be the most effective supplement I have4 taken?
After the 1st two doses, I noticed an all round improvement of my rather dangerous issue with a severely underactive thyroid gland. The clarity in my brain started to return to normal plus the dizziness all but disappeared.
I attribute this to the fact that this product is made from 100% Australian ingredients, with NO additives - only pure TURMERIC root grown in the best possible environment - with CARE.
I have already recommended this product to friends and family who are all going to follow suite
Thank you Phil and Benita!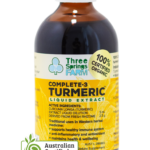 Complete 3 Turmeric™ Liquid Extract - 200ml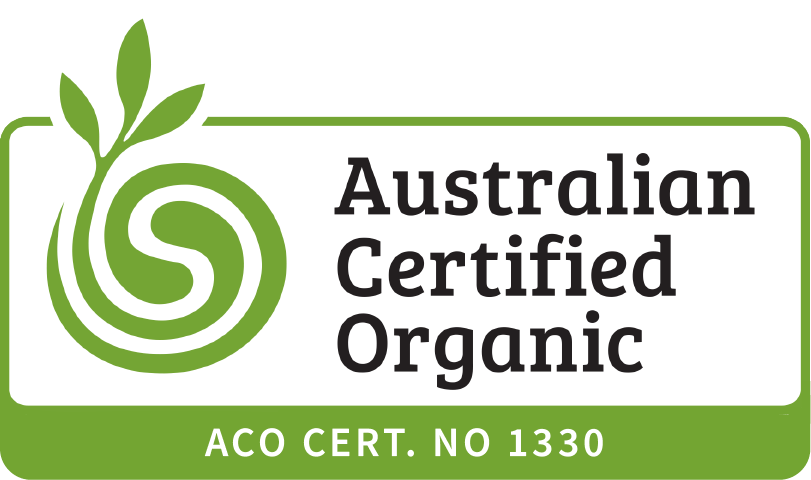 Three Springs Farm is Certified Organic
Three Springs Farm is a certified horticultural operation in accordance with Australian Certified Organic Standard – ACO 1330.
Compliance requires that all produce is grown without harmful chemicals, synthetic pesticides, herbicides, antibiotics, or genetic modification. Inspections and audits are conducted regularly.
Three Springs Farm acknowledges the traditional custodians of the Bundjalung Nation.
We recognise their continuing connection to land, sea and waters. We pay our respects to elders past, present and future.
Testimonials
"I was diagnosed with Inflammatory Arthritis two and a half years ago. Not wanting to take conventional medication, I began exploring alternative options. Turmeric appeared to be high on the list, so I tried a course of Turmeric Tablets which had some effect but nothing of great significance.

I was fortunate enough to hear of  Three Springs Farm doing trials on Turmeric Liquid on their organic farm. I started  a trial on the product and that's where my life has changed. I have been using Complete 3 Turmeric Liquid Extract for almost a year now, taking 5-10 mls each morning with almond milk and, when under stress, I take the same dosage of an evening. The result in pain relief has been incredible, enabling me to resume exercising and to do all of the things that I once did prior to diagnosis.

I can't thank the owners of Three Springs Farm enough for pursuing what they believed in and in taking such care in producing such a quality product."
Complete 3 Turmeric extract has made a huge difference to my daily routine. As a hands on owner of a contract cleaning service, constant lifting, bending and kneeling was taking its toll on my joints and energy. A friend recommended I try Complete 3 Turmeric extract instead of over the counter pain killers that had only given me limited relief. The result has been wonderful. The stiffness and aches have gone away and I feel a renewed sense of wellbeing with a clearer mind to focus on running my business.
I'm a cattle farmer and contract fencer. For the past two years I've had to limit physical tasks and take prescription anti-inflammatories because of problems in my shoulders and lower back.  Since taking Complete 3 Turmeric  I'm again enjoying work in the great outdoors free from pain and unpleasant side effects.
I take turmeric for joint pain and stiffness- I consider it as a natural anti inflammatory so now I'm taking less than 5ml morning and night.

I love your product and I hope your business is growing well.
FAQs
Here are some FAQs about turmeric. For more information about our product Complete•3 Turmeric Liquid Extract, please visit our FAQs page.